MPL Malaysia was held separately from Singapore for the first time in a long while. Both regions have shown significant audience growth, causing the organizers to return Malaysia to the status of an independent region and for the first time launched a separate competition in Singapore. In our article, we will tell you about the results of MPL MY Season 7, its top teams, and the most popular matches.
A total of ten teams fought for a prize of $100K. Same as in the case of Singapore, the teams entered the tournament through open qualifiers.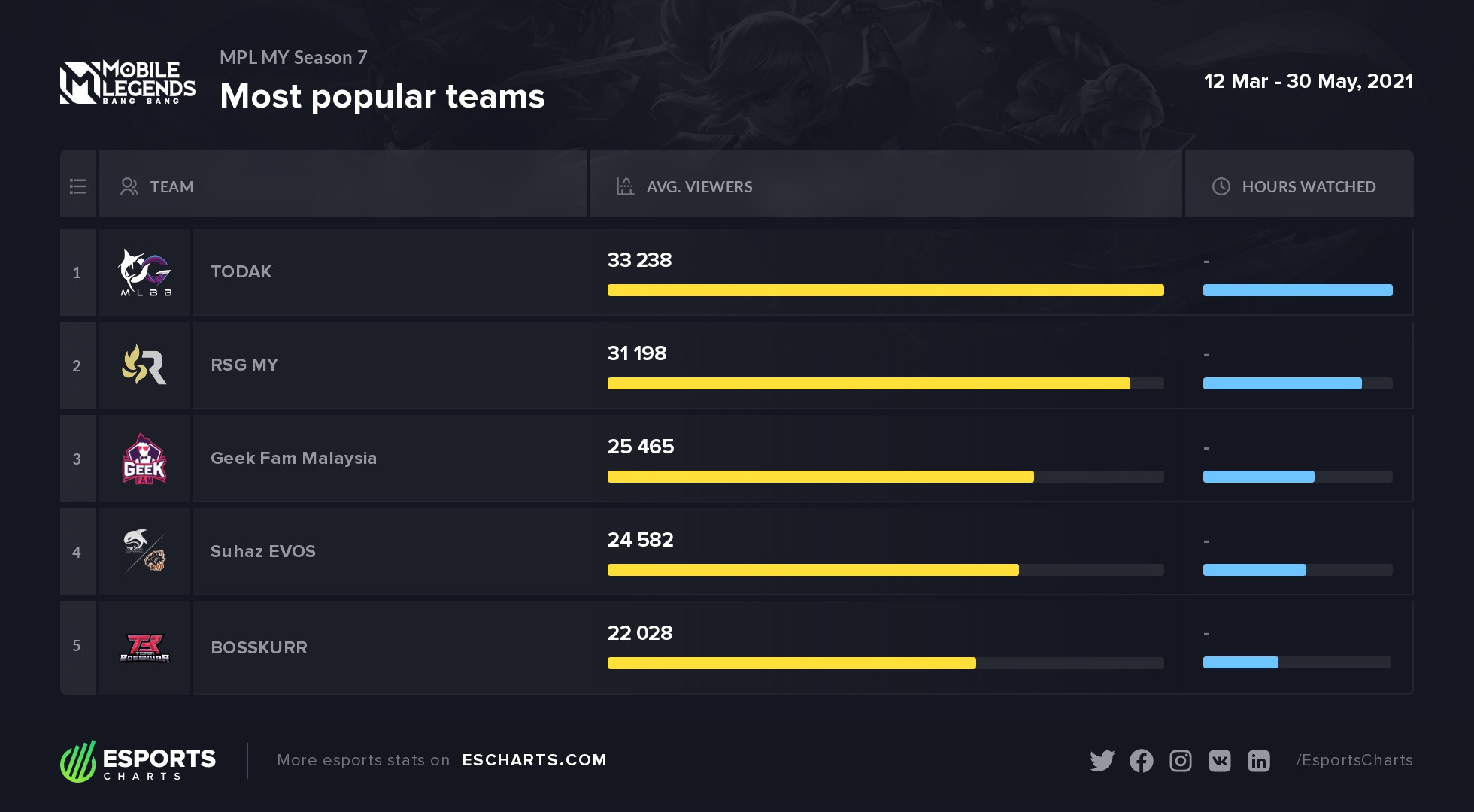 The final match between RSG and Todak (the champions of the last MY/SG season) was marked with 111K peak viewers. Todak became the tournament's most popular team with 33K average viewers. But the season's victory went to RSG, followed by 31K average viewers.
The broadcast itself took place on three platforms: Facebook, YouTube, and TikTok. Malaysia and Singapore are not broadcast on NimoTV, despite this platform attracting quite a lot of viewers in other regions. YouTube and Facebook were almost on par in terms of viewership.
Aside from the fans from Malaysia, the tournament was watched by English-speaking viewers, thanks to the organizers launching official broadcasts in this language.
Was there any point in dividing Malaysia and Singapore?
To understand the benefits of dividing Malaysia and Singapore, we compared their results to those displayed in the past years. Without breaking a sweat, MPL MY Season 7 overtook the sixth combined season with the hours watched being up by 100%! At the same time, Malaysia received more airtime. The peak viewership was also record-breaking for these two regions.
Based on statistics, it would be hard to call Singapore that successful – but still, this is a great opportunity for the region to gain a new audience and attract local sponsors. We will be able to examine the situation in these two regions in more detail and draw objective conclusions after yet another season – as to compare how they cope on their own.
More articles about MPL:
Results of the seventh season in Indonesia
Results of the first season in Singapore
Results of the seventh season in the Philippines
Esports Charts provides access to relevant and reliable information, which is the foundation for making correct and timely decisions. Contact us via [email protected] with any request and we will respond as soon as possible.