MPL SG Season 1 is a new region for the Professional League for Mobile Legends: Bang Bang. Before, Singaporean teams played in a joint tournament with Malaysia, but now the competition became divided – so let's see how Singapore managed to deal with it on its own.
The league went from April 3rd to May 9th. Eight teams got into the tournament through preliminary invitations, and the prize fund was quite significant – $100K.
The Singapore league was quite short compared to other regions – only 81 hours, as compared to Indonesian 178 hours. The finals featured the battle of RSG (the champions of MY/SG S5) and EVOS.SG, gathering 22K peak viewers and becoming the most-watched match.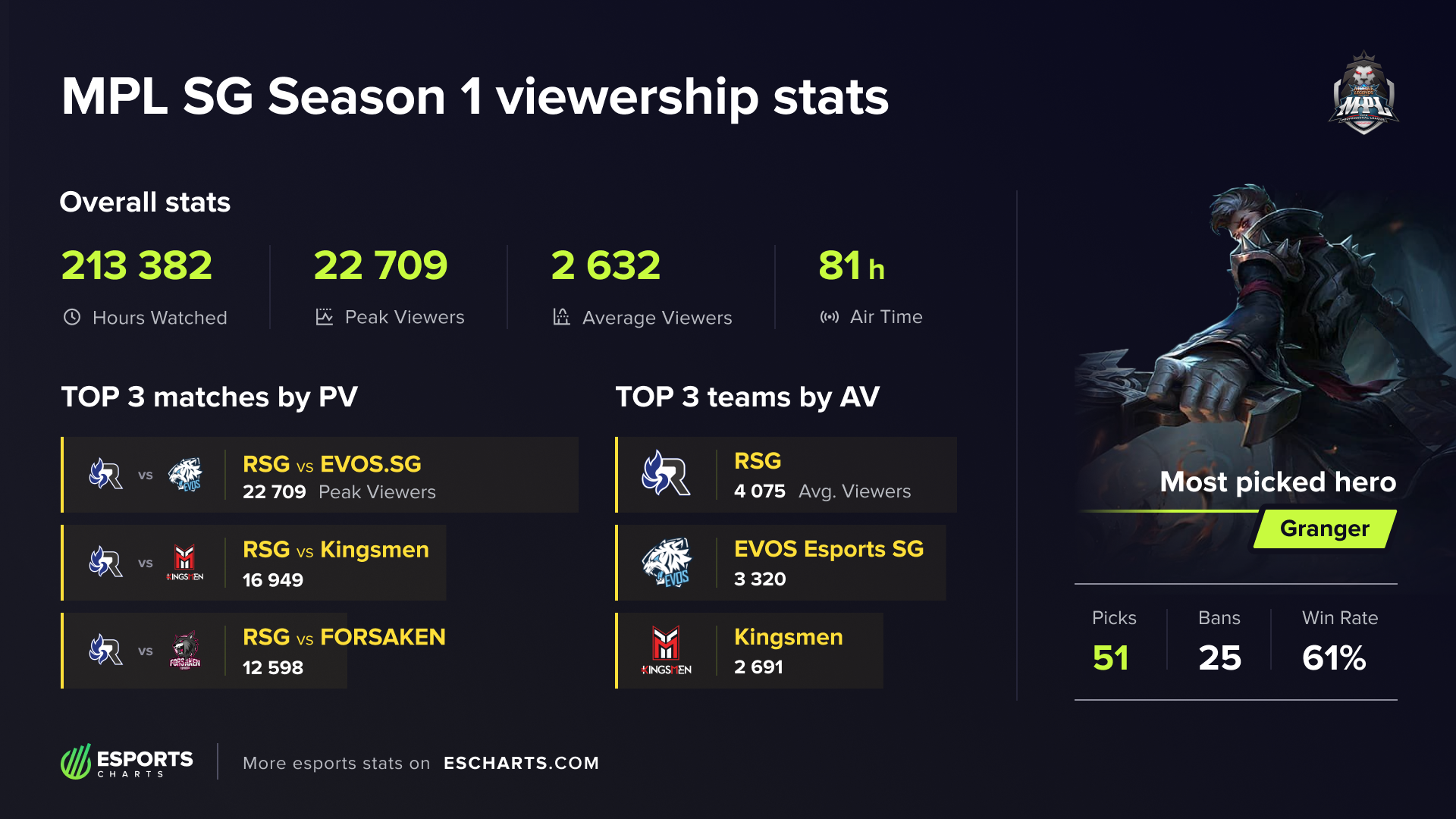 EVOS.SG became the champions of Singapore's first season. While RSG failed to win the tournament, they got in the lead in terms of the average viewers of their matches, gathering 4K of those.
Broadcasts of MPL SG Season 1 were in English and took place on YouTube and Facebook. The former platform attracted the largest number of viewers on the game's official channel.
Was the idea of dividing the regions a good one?
We compared the results of the new Singapore league and the last Malaysia/Singapore seasons. It is clear that the results were much better when the regions stayed combined, with the sixth season of MY/SG attracting 83K peak viewers.
Viewers clearly had more preference for Malaysia, given that the qualifiers for the seventh season of the Malay league attracted 6K peak viewers more than the Singapore finals.
The division of regions helped increase their overall coverage. At the moment, the seventh season of the Malay League is underway, with its group stage having already outperformed the Singapore finals – with 77K peak viewers watching the match between GeekFam Malaysia and Bosskurr. However, for Singapore, the division will provide an opportunity to attract local partners and sponsors for the league – which means that we will be able to assess the full impact of the division after at least one more season.
The pro league does not end there: the finals for Malaysia will be held on May 30th, and in the Philippines on June 6th. Subscribe to our social networks to keep yourself updated on esports statistics.